Spark is one of our favorites. We love the atmosphere. We love the food and drinks. We love it all.
[If you've never been there, let me explain the premise. It's a trendy restaurant in Downtown Provo with cool style, DE-licious gourmet food, and a fun social scene. We love how unique it is. As far as we know, there's no other place like it in the area. ]
We've been there a few times and love it every time. Smaller portions than your average restaurant but we think this is a plus. It opens up the possibility of trying everything without overindulging. We've always ordered drinks, appetizers, salads, entrees, and desserts and felt satisfied, not full, at the end of the night.
Also, the menu changes regularly. They're always trying new dishes. Another plus. We can keep coming back and tasting different things each time.
This time we ordered the tandoori-crusted blue nose sea bass and the pan-seared scallops. The food was amazing, as always, but this is the first time we DID feel overindulged afterwards. Probably largely due to the pommes frites we ordered as an appetizer. Good, but a little too heavy to start with. They've also hired a different chef and the portions have increased. I believe the chef is a sushi chef so the pan-seared salmon or the thai spicy tuna rolls are bound to be divine. We also made the mistake of asking to be seated upstairs in the lounge area. The tables were a little too low for dinner.
(below) pommes frites. loved the crunch. a little heavy for an appetizer. not crazy about the sauces.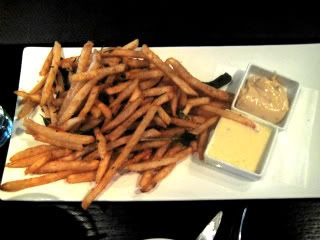 (below) left: pan-seared scallops right: tandoori-crusted blue nose sea bass
both very tasty. especially the sea bass.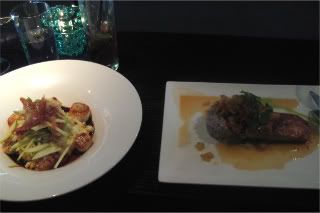 (below) left: fried banana right: panna cotta assortment
the fried banana had major potential, but it tasted like they used a plantain instead of a banana. loved the crunchy shell, but the inside didn't taste as sweet or soft as it should have. the panna cotta was delicious. light and subtle.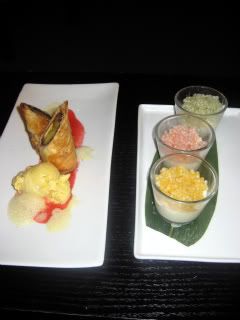 I will say we LOVED the
cilantro shrimp
appetizers. We dipped our fries in the
japapeno tartar
(came with the shrimp) and I liked it better than either of the dips that came with the fries.
Bottom line:
We still love SPARK but will probably order smaller next time. Maybe drinks and appetizers, or dessert only.

This is a good restaurant for college kids to hang out. Good location, trendy, fun. They have music some nights and little parties for certain occasions (ie. New Year's Eve). They don't serve alcohol but have all kinds of fun, colorful drinks. We like to try a new one every time. below left: lycheetini right: kiwi martini below: pomegron not my favorite. i'm not a big fan of the black licorice flavor given off by the tarragon.


It's also a good place for 'foodies'. We are self-proclaimed 'foodies'. We've become borderline food snobs. We love to try new types of food every time we go out. We're at the point that regular restaurants (Chili's, Applebee's, Friday's, Olive Garden) just don't cut it. If you're the type that enjoys trying new things and is passionate about food, this is the place for you.

You probably don't want to sit in the lounge unless you're just getting drinks and visiting (this is what they intended the lounge for anyway).

It's a fun place to go with friends to get dressed up and have a fun night out!
{We also went to see State of Play after dinner. Great movie, but it's a whole other post in and of itself. I've included a link to the trailer if you're interested, but I'll stop here.}