Finally, here are some pictures of the wreaths I made.
This one didn't turn out quite how i wanted. In the tutorial, she didn't specify sizes so I did a variety. If I had to do it over again I would go with only small and medium styrofoam balls. The big ones are REALLY big, but it's growing on me.
These i like.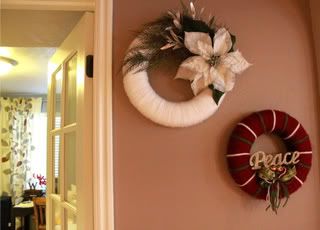 So many options with yarn! My next project will be one of these pom pom wreaths. tutorial on the
Bluebird Vintage Blog
.