Little sister's baby shower was a success! We decided on a 'nesting' theme since her nursery is decorated with birds.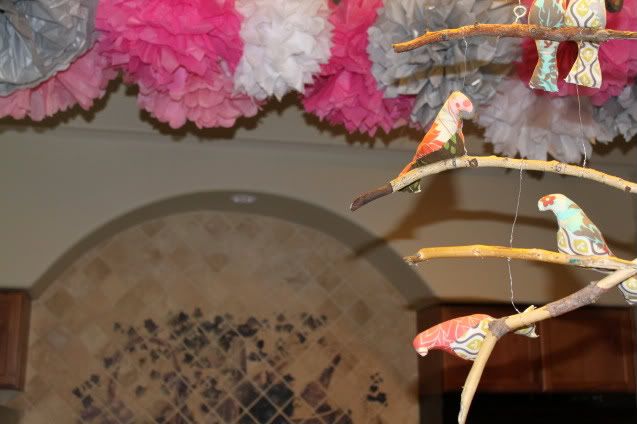 We had to stay in a budget so we weren't able to do everything we WANTED to do. We just bought some $10 invitations from Target, then added our own bird insert with directions on one side and places the mommy-to-be was registered, on the other.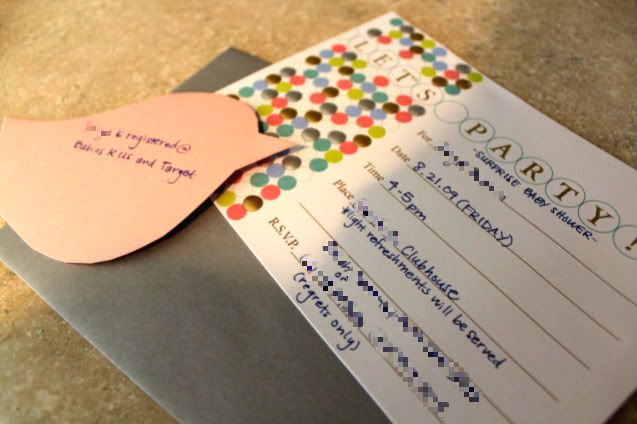 Petunia found this great project online, for making a
bird mobile
.
Here's the template
for the birds. Very straight forward and simple, which we love. We chose fabrics we thought would coordinate well with the nursery.
We made the mobile up on our own. Hubba actually helped with that part. Eye hooks, wire, and branches.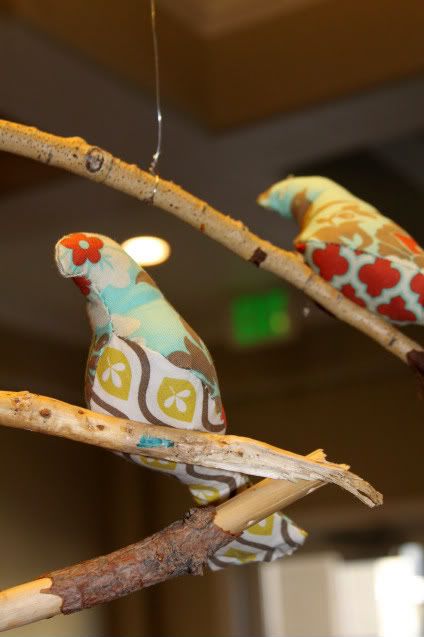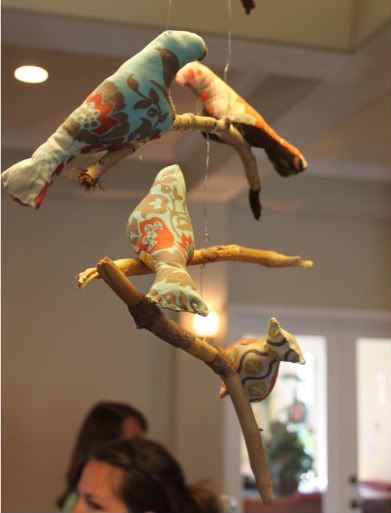 When guests walked in, we had a table with more bird cut-outs for them to write advice for the mommy-to-be. I wanted SO bad to have a birdcage to put the cut-outs in after writing advice, but the only ones i could find were $50+! And that was thrift shopping! Don't they know I'm on a budget? So we settled for a milkglass bowl instead.
I made another mini triangle
banner
. Just cut up small triangles in coordinating colors and connect with a needle and thread. Hang with clear push pins.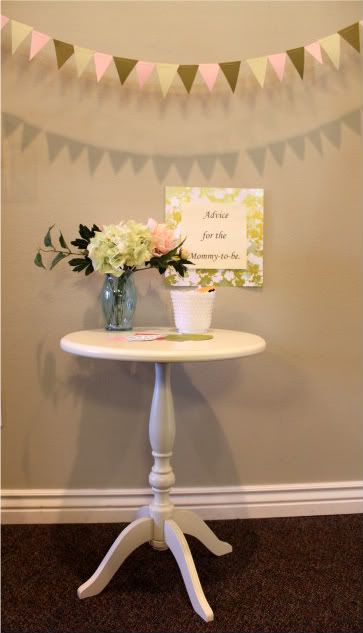 I made another paper banner for baby Olivia's nursery (shown below). I took coordinating scrapbook papers and cardstock and cut a triangle out of the bottom of each. Then I took some silver paper and drew the letters of baby's name with a pencil, using a font on a computer for reference. I also used a ruler to make sure my letters were approximately the same height and width as eachother. When I felt like they looked good, I cut them out with a utility knife.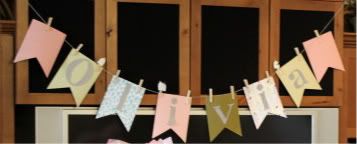 Then I laid out my paper in the order it would hang (with two matching sheets on each end) and taped the letters to the paper.
I took some twine, used clear pushpins to hang, and attatched the letters with clothespins. Another cute touch would be to paint the clothepins or use ribbon in place of twine, but I wanted this particular banner to stay pretty simple.
I wish I had taken more pictures. One of the scrapbook papers I used had birdcages all over it. I used that same paper, cut out a few of the tiny birdgages, and taped them to a couple of the clothespins.
From start to finish it only took about half an hour. You can mix and match solids and prints, like I did, or use all the same prints. Any would look cute. You could also use a different font and color for each letter and keep the background paper the same. Be creative and change it up!
I mod podged a big wooden 'O' for baby's room. I painted the front of the letter white and the back pink, then used a few sheets of paper to decorate. Here's a tutorial, if you're lost. Once again, I kept mine a little more simple.
We also took some of the fabric we used on the birds, and framed it. I would like to have had a collage of framed greeting cards (with birds) but remember. . . . budget, budget, BUDGET!! It was hard not to go crazy like I wanted, but these things add up, FAST, so be careful if you're planning a party. Have a plan from the beginning.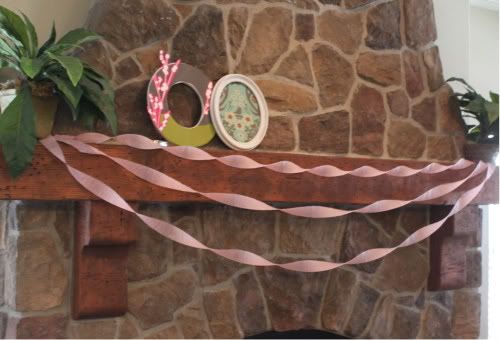 I know some people hate shower games but we felt like it wasn't complete if we didn't have just a couple. We played Memory and Baby Bingo.
The memory game (shown below) was made out of pink posterboard and green birds. One side had A-I and the other had 1-9. Both sides were out of order. Each bird had a baby or pregnancy-related word on the back side.
Each guest picked a letter and #. If the words on the other side matched, they got a related candybar. Okay, okay, I don't usually condone cheating, but if you need a little help with ideas, here are the ones we used:
epidural- life savers
hospital bill- 100 grand
postpardum- jelly belly's
preemie- runts
chubby cheeks- kissables
breastfeeding- milkduds
bottle- milky way
pacifier- sucker
labor pains- whoppers
It was fun thinking these up. There were a lot more we came up with (like delivery- blowpop, inception- score, *father's name*- sugar daddy, doctor- smarties) but these were the best, we thought.
We also played Baby Bingo. Petunia made these adorable bingo pages with pictures of little sister: #'s 1-8, scrambled, with one free space. We put numbers on 8 of her presents, she got to choose the order in which she opened them, and any time she chose one with a number, we called it out for the guests to put a square on (we cut small squares out of the leftover banner paper).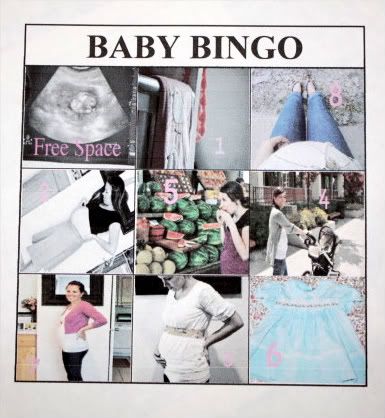 There were three winners, who each got 'dinner in a jar' (caramel sauce). Recipe here.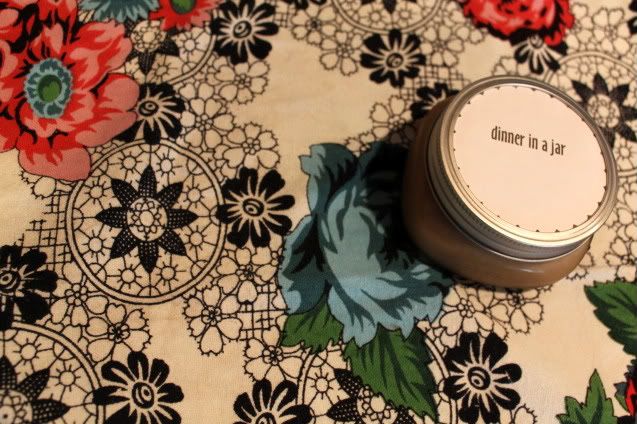 Favors were chocolate bars, re-wrapped in parchment paper, tied with twine, and adorned with a fabric bird. Of course a fun alternative would have been little nests with eggs (jordan almonds).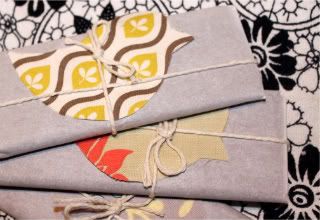 As I said before, I didn't get enough pictures. One drawback of hosting. I got these cheap plastic trays from Savers, spray painted the top white and the underside edges silver. They looked way cuter after painting and we used them to display some of the food. We had chicken salad, crescent rolls, delicious minty fruit salad, lemon water, chocolate chip bundt cake, and bird's nest cookies. MMmmm. I could use some of that cake right about now.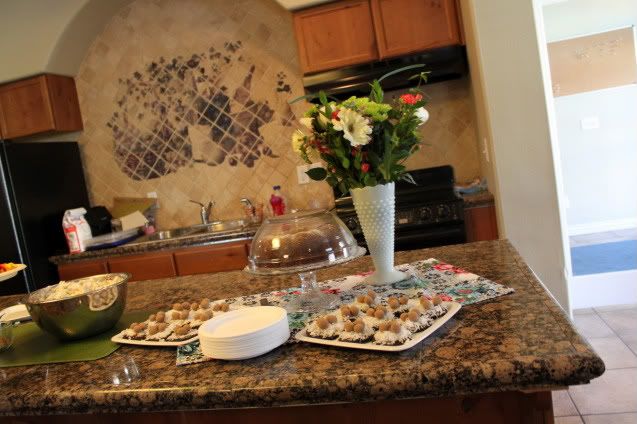 Happy party planning!