We can ALWAYS use more storage, so he made the top with hinges, to store some books inside.
The wheels gave us the most trouble. I'm pretty picky when it comes to our projects. When I like the look of something, I'm not going to settle for less than perfect. I believe that, if it's not going to look like the picture, it defeats the purpose of building it yourself. You might as well shell out the money for the original. If you're going to cut cost by making it yourself, you don't want it to LOOK like you made it yourself. I LOVE when people come over and ask where we bought our
bookshelves
. That means we did our job.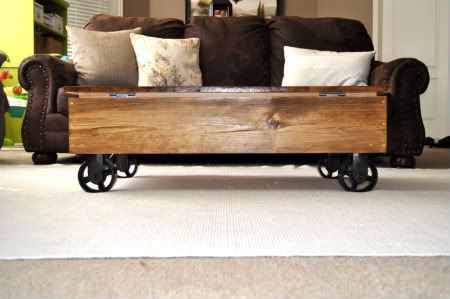 Anyway, the only similar casters we could find were
antique, heavy duty ones
, which I LOVED, but they were WAY beyond our budget. We were
-this close-
to just buying the expensive ones, when Hubba worked his magic and found
THIS site
. He searched "cast iron", and found some four-inch casters for about $12 each (as opposed to the antique ones, for $40+ each). They were brand new, and shiny, which is NOT what we wanted, so we spray painted them with
Rust-Oleum Hammered paint
in black, and I'm really happy with the outcome.